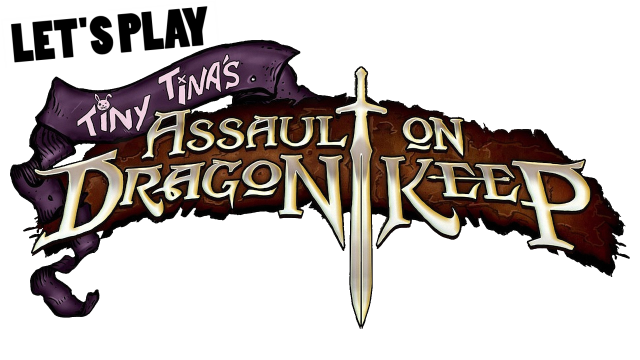 Borderlands 2 meets Dungeons and Dragons. As a gamer and D&D player myself, this DLC is a real treat. I mean, just on the surface level, you've got Tiny Tina - the world's most explosive minor - as the Dungeon Master, and you've got three of the original Vault Hunters as the players. Lilith is the true roleplayer, Mordecai is the skeptic, and Brick is the man's man. Other Borderlands characters and concepts get reimagined in Fantasy RPG form, and on top of all that you've got a billion other references and parodies to medieval fantasy, RPGs, MMOs, TV shows, other video games, nerd culture in general...
But that's just on the surface of why Assault on Dragon Keep is awesome. The reason I really like it is because... well, it GETS D&D. It understands that roleplaying games are awesome, funny, silly, epic, ridiculous, and surprisingly meaningful at times because when you put together a group of friends, make one of them a half-scheming, half-improvising narrator, make the rest the protagonists of their own personal fantasy, and throw in a complex and arcane rules system to keep things fair; what you get out of that is that melting pot of just engaging social experience.
That's why I like Borderlands 2: Tiny Tina's Assault on Dragon Keep. Because it gets it. It gets why we play these kinds of games.
So then I thought, "I know a lot of roleplayers. I'm sure they'd get a kick out of this DLC. I want to show them the game and watch their reactions."
Hence, Let's Play.
This week, I introduce the Let's Play and why I'm doing it,
briefly
sum up the story of Borderlands 2 so far (spoilers!), and show off the opening cinematic.
Next week:
Unreliable Narrators, Impossible Bosses, and Skeletons
or
The BUNKER MASTER of QUESTIONABLE RELIABILITY
And two of my fellow roleplayers will be joining me to provide commentary, as will be the case for every week! New episodes will be arriving
hopefully
every Saturday.
Last edited by Newbiespud on Tue Oct 01, 2013 2:49 am; edited 1 time in total
Friendship is Dragons Author





Gender

:


Posts

: 27


Join date

: 2012-07-18


Age

: 26


Location

: Redmond, WA



Azureink, Zarhon, and ArkenBrony help me fail to fight skeletons and succeed to blow up innocent civilians. Because reasons.
Next week:
Sidequests, Crumpets, and Nerds in General
or
The NOUN of ADJECTIVE NOUN
Friendship is Dragons Author





Gender

:


Posts

: 27


Join date

: 2012-07-18


Age

: 26


Location

: Redmond, WA



Have a gigantic update for the thread, for those of you that might not have been keeping up with the series:
Part 02: The NOUN of ADJECTIVE NOUN
Pingcode, Logan, and I go sidequesting - solving riddles, collecting crumpets, and acquiring the Questions of True Geekiness (tm) - while we talk about the weekly tabletop games we're currently playing.
Part 03: The FOREST of TERRIBLE PUNS
Alexander von Koopa, Cain, and Onyx help me get through the forest the only way they know how: Through D&D stories and punning.
Part 04: The WOODS of IMMORTAL SOULS
Azureink and Oblivious help me get through a glut of sidequests that include (but are not limited to): apathetic trees, Dark Souls references, cursed dice, and fake griefing.
Part 05: The KINGS of ANNOYING RESISTANCE
Zarhon, DragonTrainer, and The Greater Aerie watch as I struggle more than I should against four Skeleton Kings in the main quest.
Part 06: The TRAGEDY of DWARF DIPLOMACY
Logan and Cain disagree with me when I say that Spatula Khan is awesome. They DO agree that the gun I get in this episode is awesome, though. And, as always, no one cares about the plight of the dwarves.
Coming soon:
The SECRET of DWARVEN LOCKS
Friendship is Dragons Author





Gender

:


Posts

: 27


Join date

: 2012-07-18


Age

: 26


Location

: Redmond, WA



---
Permissions in this forum:
You
cannot
reply to topics in this forum